Cargo boxes has been something i've been looking into last week and want to put my findings into one place. full disclosure i am biased towards the 8 freight for various reasons but will try and look at this objectively
I've been weighing up the different options for potential cargo bikes and boxes for "last mile" style of delivery to work with parcel carriers. This style of delivery is based upon drop efficiency, to maximise the amount of parcels you can deliver per hour. I'm focusing on the type of box rather than the bikes in this post though although they both play a big part in this decision on what equipment to use for this style of delivery.
The criteria for the box:
Secure / Lockable
weather proof (to a british standard)
Aluminium or equally hard wearing/light/repairable/secure material
Lead time to manufacture
Biggest capacity possible
Cost
Secure / lockable is fairly easy, we have been advised to go for slam locks similar to what you'd find on a van. The courier doesn't have to remember to lock the box and it saves those crucial few minutes fumbling for keys etc
Weather proofing again is relatively easy, most off the shelf boxes or custom made boxes for cargo bikes whether fiberglass, metal or flight cases are all weatherproof, adding a vinyl wrap for advertising again will help secure it up against heavy rain.
Aluminium seems to be the best option material wise, it's light, hard wearing and secure. Being metal it does give a good impression of it being as secure as a van and will discourage theft further. We did look at fiberglass but it seems very fragile, not too hard wearing and it maybe tricky to fit locks too as it flexes so much. Flight cases are insanely heavy, which as cargo bikes have a limit to what they can carry keeping the box lighter is more favourable and will save on frame damage from over loading over time too.
This leads me to capacity, lead time and cost….
simply the larger the box is on the bike, the more parcels you can carry and the less amount of times you have to return to the depot to load up again. Then again if you can't get the boxes for 6-8 weeks or you have to custom make your own this means your far less flexible when working with a carrier which isn't good, your in a tricky spot and may choose differently when investing your hard earned funds and equally if the box costs too much vs others you may choose differently too
I've been looking at 2 wheeled cargo bikes due to our situation in Oxford favouring 2 wheeled bikes vs three wheeled trikes. We've looked at cargo bikes which can be bought readily in the UK at the moment and based them on the best prices we have found but please update me with prices if you've had different. Im only going to include box options that already tick the boxes of security, material or weather proofing as simply all cargo bike boxes needed for this type of delivery should meet these.
8 freight – Bike (£1,899)+ Box (£600) = £2499 – 380L – custom made, unknown lead time
We currently use a PVC bag for our local deliveries, as these don't need to be as secure and they can hold 500 litres as a maximum for the bike which is huge, these are £610 each to make via object bags in Cardiff with a 4-6 week lead time to make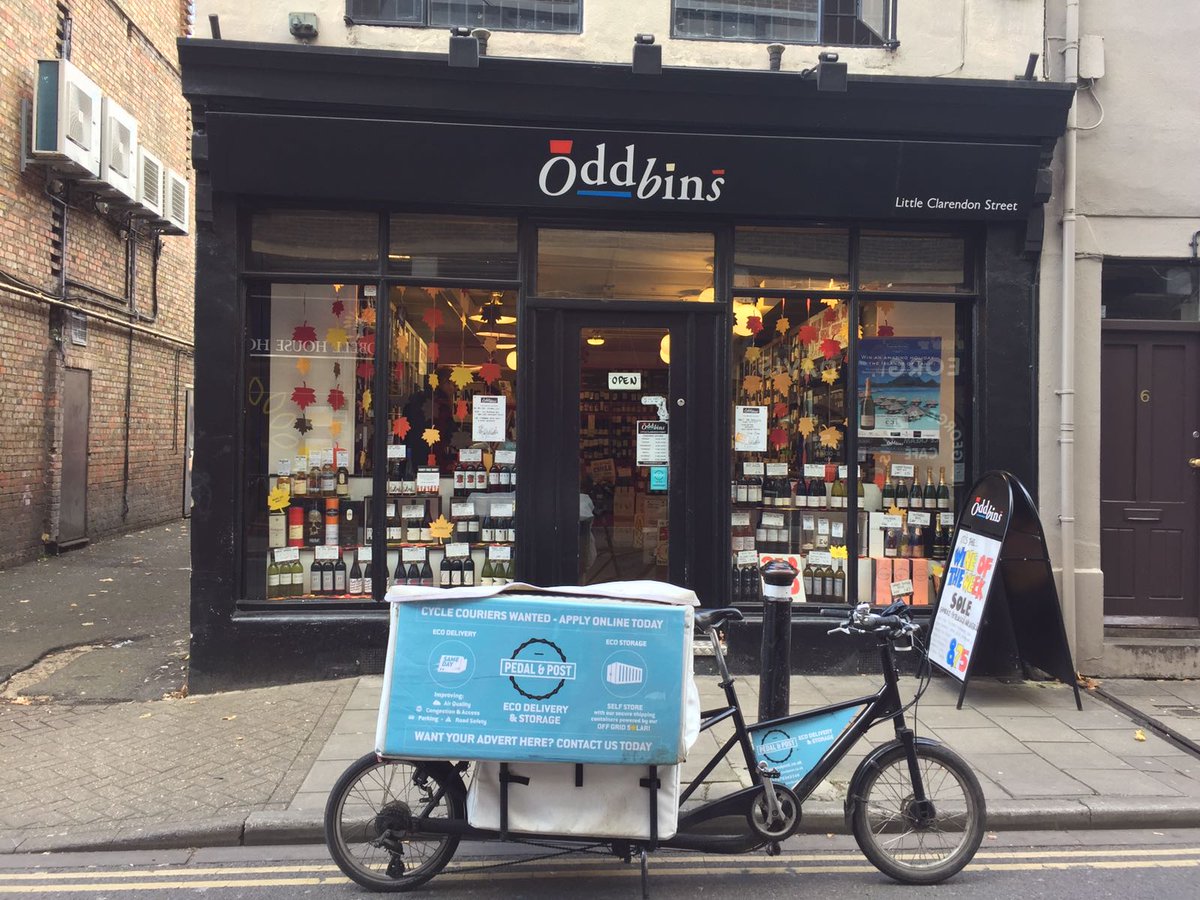 It doesn't have an off the shelf aluminium box, we have some old ones which when we started outspoken delivery in Cambridge let us buy off them for next to nothing and we've since fixed them up. These are roughly 230 litres.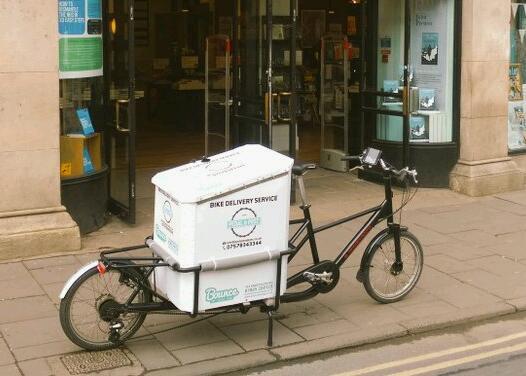 We are planning to custom make a box with an estimated 380 litre capacity costing £600 but the lead time is unknown as these haven't been made before but estimated at 6 weeks after designing it but it should look roughly like this:
We originally ruled out the fiberglass box for the 8 freight, as an alternative to the aluminium box but i've decided to include it as it's security is being improved and the fact it's so light but still hardy compared with aluminium i can't pass it up. It's 332 litres, £600 and has a lead time of a week.
(Picture to come soon but it's similar to the above)
Bullitt – Bike (£2,400) + Box (£295) = £2695 – 200L – 1/2 week lead time
There is a few options when looking at the bullitt bike, We looked at two off the shelf aluminium boxes which are readily available usually immediately but it depends on stock levels.
The first is a custom made box for the bike with an est 212 litre capacity costing £370
 Standard aluminium box, although i couldn't find the exact dimensions going on the bullitt bike size it's likely to be at an est 200 litres costing £295
Maderna truck – Bike (£2,150) + Box (£295) = £2445 – 200L – 1/2 week lead time
This seems to have the same box as the bullitt in shape and design so i would assume its of the same capacity at 200 litres and costing £295 with roughly a 1/2 week lead time if there out of stock.
*Outspoken Norwich have let us know about the box they use, waiting on some more info to include it as an option but it's est at 240 litres.
Urban Arrow – Bike (£3,859)+ Box = £?
Not actually too sure on this one, due to the much larger cost of the bike i've put this kind of out of the running and on the lowest priority but i will update this when i find out the dimensions after some email responses plus the cost and lead time of the boxes
Bakfiets – Bike (£1,760) + Box (£330)= £2030 – 385L – custom made, unknown lead time
We spoke to box bike delivery based in stevenage who currently use the bakfiets, there boxes are 385 litres which is huge, the boxes where custom made costing £330 at the time and open on the side.
Douze – Bike (£2199) + Box (£614) = £2813 – 250L – unknown yet
**Douze got in touch with the details about there box and bike too. They have an aluminium box with a capacity of 212L or a specially made one with a capacity of 250L at 684 Euros/ £614. I'll take the larger of the two for the comparison.
Capacity
Bakfiets at 385 litres
closely by the 8 freight at 380 litres
Douze takes this spot away from the Bullitt at 250L
Bullitt bike at 212L
Cost 
Bakfiets at £2030
Maderna truck £2445
Close for second comes the 8 freight £2499
Bullitt comes in 4th with £2645
Lead time
Joint to the Bullitt and Maderna truck with just 2 weeks maximum time
All others are custom made right now so unknown
This isn't exactly fair to the urban arrow right now but i will update with the results once they come in, i find it interesting that no one bike box can meet all of these needs yet. Technically the only way a novice could get into this industry would be via the bullitt or maderna truck with off the shelf boxes as others don't exist outside custom making your own. This is clearly more costly starting out with these bikes and can lead to less capacity too effecting your deliveries long term. This is simplified though and only based on the boxes, not on the bikes qualities
I'll turn this into a beautiful table at some point and it'd be interesting to pair this together with a bike comparison too which i believe some other operators are working on as i type this but i hope with continued communication with the manufactures with what we need will improve this relationship further over time as our industry grows.
Please comment below with updates or your thoughts too
*Update on Maderna truck additional box via Outspoken Norwich
**Addition of Douze cargo bike into line up
*** Updated Fiberglass box for the 8 freight